| | |
| --- | --- |
| | Stellation of Snub Cube |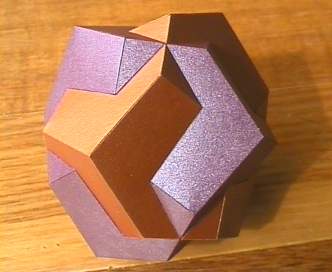 This model is another stellation of the snub cube, using only the snub triangle face planes. It may also be thought of as a compound of two irregular dodecahedra, distorted versions of the regular dodecahedron.
Great Stella creates a single type of net for this model. Eight of the nets are required altogether, each one consisting of six connected pieces, and creating one of the main peaks. I started by constructing all but one of the peaks, and gluing them together. The last peak you need to be a bit more careful with, but you can glue it bit by bit before closing the last flap.
| | |
| --- | --- |
| | The view down a 4-fold rotational symmetry axes. |
| | The view down a 3-fold rotational symmetry axes. |
| | The view down a 2-fold rotational symmetry axes. |