| | |
| --- | --- |
| | First ever Dino Cube, a Rubik's Cube-Style twisty puzzle |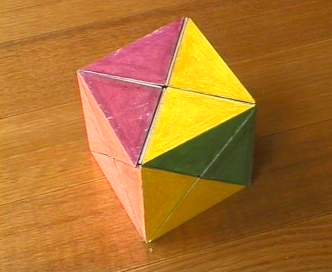 This page describes a Rubik's Cube-style twisty puzzle I made out of cardboard. To be honest, it doesn't work terribly smoothly! Everything must be carefully lined up before you can twist the puzzle, but it's interesting to see that such a thing can actually be made from cardboard! I'm sure it could be improved upon too.
I made this puzzle as part of a school art project originally (well, that was my excuse!) no later than 1985. I found out much more recently that Stephen Harvey described this puzzle in an article in 1990, and also made a working cardboard prototype. The puzzle has also since been manufactured commercially under the name Dino cube. But it appears that mine was the first ever made.
| | |
| --- | --- |
| | Here is an animation of the puzzle in action. |
| | The puzzle with one twist. |
| | The puzzle with half a twist. |
| | The puzzle with three pieces removed. You can see the rhombicuboctahedron in the centre. This has tetrahedral parts connected with paper fasteners to form a stella octangula (compound of two tetrahedron). The tetrahedra rotate, and have circular arcs cut out from their bases. |
| | These are the pieces that were removed above. These fill in the gaps between the tetrahedra to complete a cube. The arc-shaped arms fit under the arcs cut into the tetrahedra to hold the pieces in place. |
| | Here is my cardboard model beside the smaller plastic commercial version. |
| | And here they are again with a twist. |