Rhombic Cuboctahedron Pair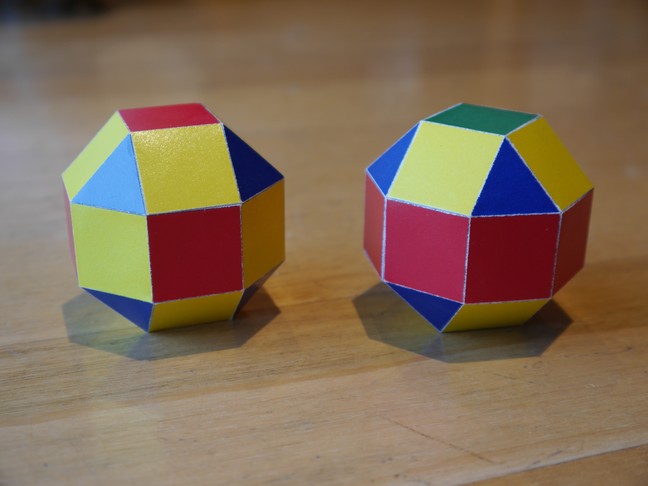 Vertex description: 4.4.3.4
Faces: 26
Edges: 48
Vertices: 24
Stellations:

Fully supported: 18827 (3339 reflexible, 15488 chiral)
Miller's rules: ? (128723453647 reflexible, ? chiral)
The rhombicuboctahedron and the pseudo-rhombicuboctahedron.
| | |
| --- | --- |
| | This rhombicuboctahedron was made from a single net, printed in colour with a colour laser printer. |
| | This is a pseudo-rhombicuboctahedron, and was made from a single colour net. Each vertex is locally the same as the rhombicuboctahedron, being surrounded by three squares and a triangle (vertex description 4.4.4.3), but the rest of the model does not line up if you transform one vertex to another. For this reason it is not a uniform polyhedron, but can still be made with Great Stella or Small Stella. This model is also called the elongated square gyrobicupola, and is one of the Johnson solids. |
Copyright © 2001-2018, Robert Webb.