| | |
| --- | --- |
| | Great Truncated Cuboctahedron |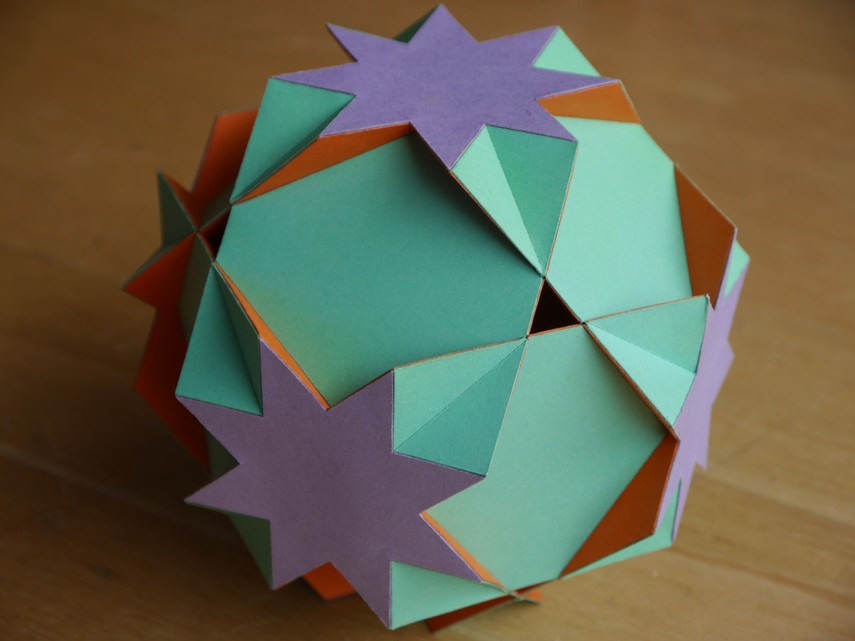 Vertex description: 8/3.4.6
Faces: 26
Edges: 72
Vertices: 48
External facelets: 146
This uniform polyhedron consists of 6 octagrams (purple), 12 squares (green) and 8 hexagons (orange), one of each meeting at each vertex.
I wish I'd taken some photos along the way when building this one! I basically followed the instructions in Magnus Wenninger's Polyhedron Models, but changed half way through.
The deep holes in the model form a stella octangula with the tips cut off. This is built first, leaving only small tabs exposed to connect to the rest of the model.
The next step is to create all the cups formed by the central parts of the squares, and the surrounding walls formed by part of the hexagons. These are then glued in place between the peaks of the stella octangula.
I continued following Wenninger's advice for three of the remaining six octagrams, by first gluing the triangle-pair wedges in place, and then gluing the octagram in last. But I found this very difficult to do accurately, and the octagrams were ending up a bit warped.
I had more success with the final three octagrams by first gluing the triangle-pair wedges directly onto the octagram, and then gluing that whole construct onto the rest of the model. Somehow this turned out easier and produced better results.