Faceted Cube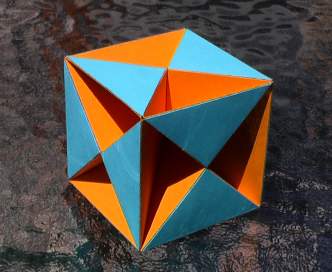 A faceted cube. There are two types of face: rectangles between opposite edges of the original cube, and bow-tie shaped faces using the four vertices of each original square face. This faceted model has less symmetry than the original cube, having only tetrahedral symmetry. This model is in Great Stella's polyhedron library, but if you want to make this model yourself, you must remember to drop to the tetrahedral sub-symmetry group first.
| | |
| --- | --- |
| | The model can be constructed by first constructing this cross-shape, which then folds up like the familiar cube net. |
Copyright © 2001-2018, Robert Webb.