| | |
| --- | --- |
| | Rotunda-Drilled Truncated Icosidodecahedron |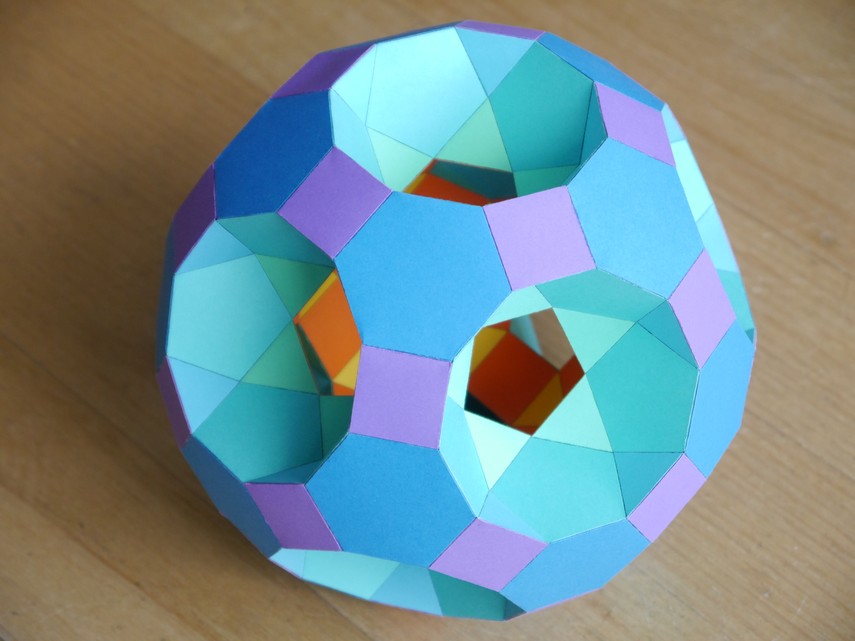 This beautiful model is a truncated icosidodecahedron with a pentagonal rotunda (Johnson solid J6, or half an icosidodecahedron) excavated from all twelve of its decagonal faces, and then further drilled by a central rhombicosidodecahedron, creating holes through the model. It has a genus of 11.

As with all true Stewart Toroids, the faces are all regular and do not intersect each other. There are 20 hexagons, 60 pentagons, 60 squares and 140 equilateral triangles for a total of 280 faces. Stewart mentioned this one in his book Adventures Among the Toroids, but didn't show a picture.
| | |
| --- | --- |
| | At this early stage, the central rhombicosidodecahedron is easy to see. You should begin construction of this model by putting together the inner part first. |
| | Then the twelve rotundas can be attached, and finally the outer faces are attached between them. |