Truncated Tesseract (19-Tat)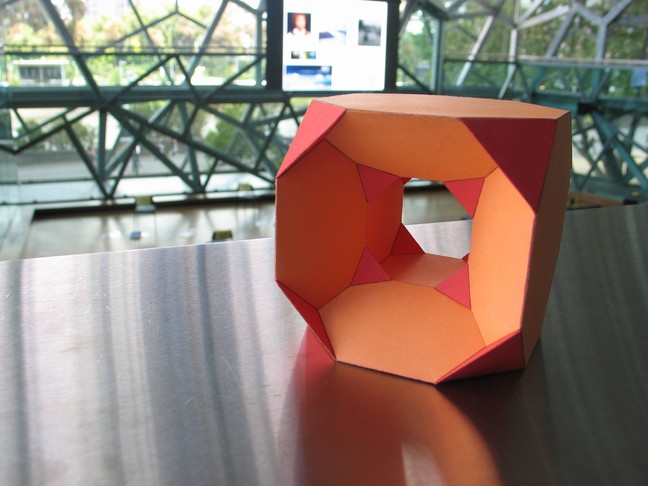 The truncated tesseract is number 19 in the list of uniform polychora in Stella4D, with the abbreviated name "tat". It has 24 cells: 8 truncated cubes (orange) and 16 tetrahedra (red). This model represents the 4D polytope projected into 3D, and with four of the eight truncated cube cells hidden, revealing the internal structure. Can you identify the remaining four? Can you identify the spaces where the four hidden cells should go?

See this tutorial for some comments on obtaining nets for building paper models of 4D polytopes.
| | |
| --- | --- |
| | If the 4D polytope could be unfolded into its 3D net, this is what it would look like. Can you see how this folds up into the above shape? |
| | Here are some of the nets required to construct this model. |
| | Here it is partially completed. It's quite an easy one to put together. I used Cutting Mode in Stella4D to rearrange the nets slightly, in a way I thought would be easier to put together. |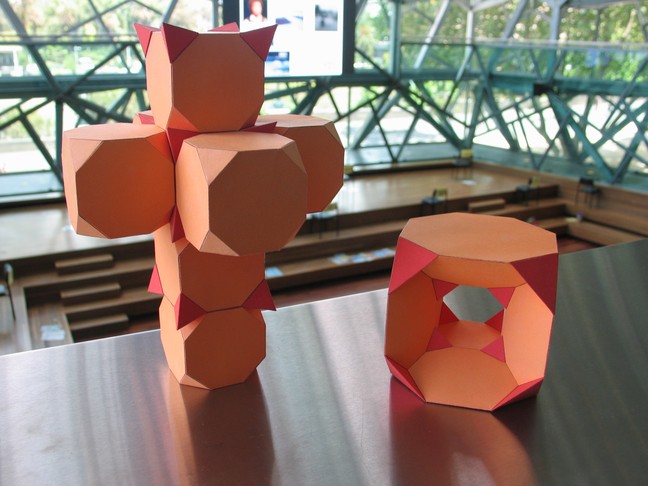 Copyright © 2001-2018, Robert Webb.