I thought we could gather models for compound polyhedra. I don't know why, but I like compound polyhedra and I built quite a few (well, relatively) of them.
This is the latest one I built: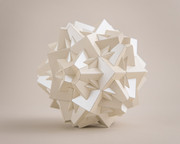 It is referred to as 10A | A5xI / D3xI. I guess a 3D is quickly available in Stella, though I don't know how, otherwise I could add a link to a 3D player of the model.
There is also a 10B version, that I built before. Together they form a pair that I refer to as "Mr and Mrs". I will add pictures to these later