Hi
Some time ago George Hart posted a polyhedron on Instagram and some time late, since he got some questions, he made a little video, which can be found here:
https://www.youtube.com/watch?v=D1tAv3cfmvI&authuser=0
I forwarded this to a friend of mine, Don Romano, who quickly built a model. Then he combined two of them which looked like this: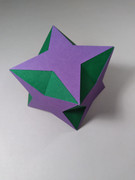 It reminded him of Wenninger's # 70
https://en.wikipedia.org/wiki/Small_dit ... decahedron
I confirmed but stated that the triangles aren't really coplanar. That lead me to the following "Swissohedron":
https://tunnissen.eu/polyh/local_off.ht ... istance=15
I am not sure whether this is a known polyhedron, I cannot imagine that I am the first, but I couldn't find anything with Google. Probably I using the wrong keywords. Anyway, since i thought it made for an interesting model, that is why I wanted to share it with you.
It can be seen as consisting of 8 cuboctahedra combined with six square pyramids (half octahedra). Together with octahedra you could fill a space. I used the colours that could remind one of a Swiss flag. Perhaps I should make a paper model of it and call it Swiss Armygedron.